Social Security for Farmers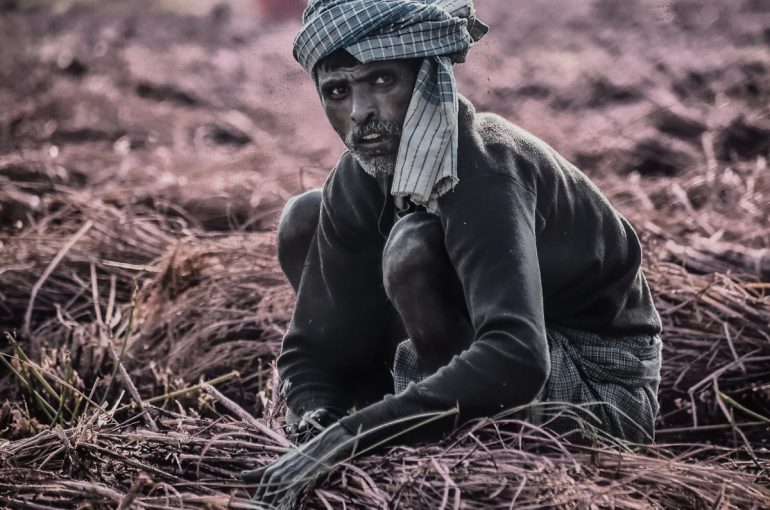 By Karnik Priyansh
01/ Equity and Sustainability — The Biggest Challenge
With more and more farmers adopting modern agri-business models in India, the objective of ensuring equity and sustainability becomes even more important. Agriculture must change to meet the rising demand, contribute more effectively to the reduction of poverty and malnutrition, and become ecologically more sustainable.
Devi Lal, a 'small' farmer from Palania village in Kota, was down with COVID last year. He ended up spending nearly INR 1,00,000 for his medical expenses, rendering a significant reduction in his estimated agricultural input costs. We helped him get linked to Ayushman Bharat so he wouldn't have to worry about unexpected medical expenses in the future but the expense he incurred before that set him back regardless. Like Devi Lal, many farmers in India suffer from multiple vulnerabilities. This situation is further compounded by the risks farmers face — yield, price, input, technology, and credit, among others.
Without any social security, the farmers' risk-taking capacity decreases and they continue to rely on outdated traditional methods. Since small and marginal farmers account for more than 80% of the total number of farmers in the country, the future of sustainable agricultural growth and food security in India depends on their performance.
The Agricultural Census data shows that there were about 121 million agricultural holdings in India in 2000-01. Around 99 million of those were small and marginal farmers. The average size has declined from 2.3 ha. in 1970-71 to 1.37 ha. in 2000-01. While small and marginal farmers account for more than 80% of total farm households, their share in the operating area is only about 44%.
02/ Challenges
Haqdarshak conducted a study in Rajasthan to identify the challenges faced by farmers and to assess how social security schemes are helping farmers sustain their livelihood. 32% of the surveyed farmers were 'semi-medium' farmers who owned two to four acres of land, 20% were 'small' farmers with land ownership of one to two acres, and 9% were 'marginal' farmers (less than 1 acre of land). The majority of the farmers in these categories earn an income of INR 1-2 lakh annually from crop farming — around 72.50% utilise this income for their daily household income.
Farming has become a highly expensive occupation over the last few years due to the spiralling cost of input and no corresponding increase in output prices. It has decreased farm earnings, causing acute financial and social distress, especially for small and marginal farmers. According to a study by the Centre for Research and Industrial Development, the loans of private loaners have witnessed a significant hike over the last few years. Uncertainties exist about regional and local impacts of climate change, but the overall global pattern suggests that the stability of the food system will be at greater risk due to short-term variability in the food supply.
Agriculture must evolve to contribute more effectively to the reduction of poverty and malnutrition, and become ecologically more sustainable. This transformation will be crucial for achieving many of the post-2015 Sustainable Development Goals (SDGs).
03/ Crop Security — The Effects of Climate Change
According to our survey, the top two challenges faced by farmers are natural calamities (25.42%) and pest attacks (15.25%).
My Soyabean crop has been doomed because of excess rain. All of my investments have gone to waste. There are loans and debts to be paid.

—Devi Lal
Agriculture is strongly influenced by the weather. While farmers are often flexible in dealing with year-to-year variability in weather, there is nevertheless a high degree of adaptation to the local climate in the form of established infrastructure, local farming practices, and individual experience. That said, crop damage has been increasing due to the effects of climate change and pest attacks. This has led to a decrease in the farmers' overall output, and therefore, their incomes.
04/ Financial Security
Whatever money comes from PM-KISAN, we use it to buy agricultural goods.

—A marginal farmer from Kasar village, Rajasthan.
The other challenges we observed are the lack of financial support, low productivity, and the lack of identity documents to access relevant government schemes. Some schemes can really change the game for them. For instance, agri-allied schemes can provide farmers with mechanised equipment to increase their productivity. On the other hand, crop insurance schemes such as the Pradhan Mantri Fasal Bima Yojana can help farmers in mitigating unexpected shocks by providing them compensation for the damaged crop.
Poor agricultural income and the absence of non-farm avenues of income is indicative of the larger malaise in the rural economy of India. The Situation Assessment Survey of Farmers, 2003 (SAS) indicates that the monthly per capita income of a farmer household is much lower than the monthly per capita consumption expenditure. This holds for near-landless, lower marginal, upper marginal, small, and semi-medium farmers.
Furthermore, according to the census data, nearly 2000 farmers are giving up agriculture daily and opting for other menial jobs since agriculture doesn't pay the bills anymore. The increasing dependence on inputs from the market has also brought about greater demand for credit. It was found during the survey that when faced with these challenges, farmers usually relied on taking help from neighbours or borrowing from local money lenders. This puts them back in a cycle of debt. The local lenders charge them high interest. Many farmers were unable to borrow from financial institutions or get benefits from government schemes due to the absence of basic documents.
60% of the farmers in our study have taken some form of loan. Even for mechanised equipment, 29% of the farmers have taken loans from informal sources at a very high-interest rate. Out of the total loans taken, 54% of the loans are utilised for farming-related expenses while an alarming 18% of the respondents take new loans for repayment of previous loans.
05/ Social Security
Two of the major challenges faced by farmers in availing benefits of various schemes — lack of documentation for clearing eligibility criteria, and lack of awareness of the benefits or the application process.
Our survey has revealed that 40% of the farmers require assistance for awareness on scheme benefits and processes, 31.67% require end-to-end support for getting linked to schemes, and 15% need help in getting basic documents. Social security provides a cushion to the farmers in case of unforeseen circumstances.
Health is one of the factors in social security that affects the farmers in indirect ways. An unhealthy farmer would not be able to go to the field, which delays farming activities and can result in crop damage as well. It also adds an excessive financial burden on the family, as health expenses are also getting costly, which compromises the limited pot available to them for agricultural inputs. Since the unwell farmer is not able to work in the field, he/she has to hire additional manual labourers which increases the input cost by a high-margin.
We don't only lose time due to illness. Our medical expenses increase and our agricultural output gos down. We are left with no money to spend on inputs.

—A small farmer from Rajasthan.
Almost 56% of the farmers cover their medical expenses out-of-pocket and 19.35% of the farmers take loans from family and friends.
In Rajasthan, Haqdarshak has supported 900+ farmers with multiple social security schemes in unlocking INR 1,30,56,564 worth of benefits. 26.62% of the farmers have utilised the money received from Pradhan Mantri Kisan Samman Nidhi, pension schemes, etc. for investing in better inputs in agriculture and 23.08% are using it for improving productivity. As the major farming expenses were fertilisers, manure, compost (22.73%), and seeds (19.70%), the amount being received from schemes is being used for these expenses. One-fourth of the farmers are utilising the money to pay back their loans. As 53.57% of the farmers take loans for farming-related expenses, social security schemes have been majorly helpful to them.
06/ The Way Forward
The conditions for the development of sustainable agriculture are becoming more and more favourable. New opportunities are available in agri-related businesses, dairy farming, poultry farming, and fisheries. These have found great support from the farmers, development workers, researchers, and policymakers alike. Most farmers are open-minded to the agri-business model and wish to be connected to the value chain of farm-to-fork.
To conclude, small-farm management to improve productivity, profitability, and sustainability of the farming system will go a long way to ensure all-round sustainability among farmers. Risk mitigation strategies should go beyond credit, and farmers should be provided with solutions to facilitate a more stable income from agriculture, especially from non-farm sources. Private credit and input markets need to be regulated to ensure that vulnerable farmers do not succumb to exploitative interest rates.
We believe that a social security net is imperative for farmers in India as the country is largely agrarian and the country's farmers have limited means and many challenges. While the government has put in place various schemes to aid farmers, the benefits of these schemes often do not trickle down to those who need it the most.
We are trying to change that.