Improving LPG Adoption Under PM Ujjwala Yojana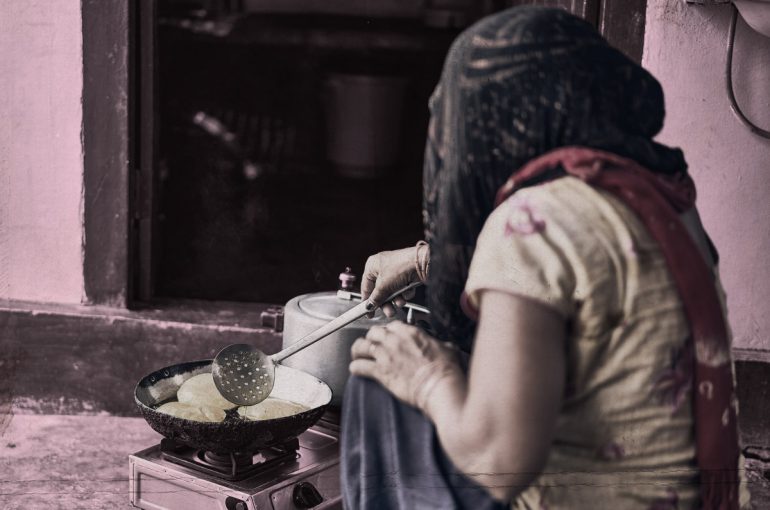 By Megha Raha and Garima Agrawal
01/ Introduction — PMUY
India is home to around 138 crore people, 80% of whom reside in climate-vulnerable districts. They are vulnerable to many risks, including displacement and an increased risk of serious physical and psychological ailments. Women and children are the most marginalised when it comes to the impact of climate change (and its causative factors) on health. Indoor air pollution is one such factor that can have long-term effects on an individual's health. According to the Environmental Protection Agency (EPA), indoor air pollutants pose four to five times the risk compared to exposure to outdoor pollution because of its relative invisibility and lack of awareness of biofuel users. These risks multiply as we spend more time at home. Early in the pandemic, when the whole country was delighted about the dropping levels of particulate matter in the air, many households were silently suffering from the augmentation of indoor air pollutants.
In Indian households, especially in rural parts of the country, women are at the highest risk of grave ailments due to their usage of solid fuels for cooking. Firewood, charcoal, animal dung, and kerosene are popular choices. The smoke produced by burning these is harmful and can lead to eyesight trouble, lack of concentration, reduced productivity, deterioration in lung capacity, and many other ailments. According to the Global Burden of Disease Study, indoor pollution accounted for nearly 6,00,000 deaths in 2019 alone. To provide clean cooking alternatives to BPL (Below the Poverty Line) households, the Central Government launched the Pradhan Mantri Ujjwala Yojana in 2016. 8 crore households received Liquified Petroleum Gas (LPG) connections during the first phase, higher than the original aim to distribute LPG connections to 5 crore households within 3 years. As per this CEEW study, around 85% of the country's population had access to LPG connections by March 2020. Subsequently, the Central Government also launched the Pradhan Mantri Sahaj Bijli Har Ghar Yojana with the objective of universal household electrification in the country. It has provided connectivity to around 2.81 crore households across the country and helped reduce the use of kerosene.
02/ PMUY 2.0
PMUY 2.0 was launched in 2021 with the aim of reaching an additional 1 crore households to completely shift to a clean cooking fuel such as LPG. But, despite having an LPG connection, some households continue to use traditional fuels alongside. The primary reason for this has been the rising prices of LPG cylinders. The peak price went over INR 1,000 this year, making the citizens in the lower and lower-middle income groups reconsider their options. Despite having LPG connections, urban residents living in slums and informal settlements prefer free and low-cost alternatives like timber waste, which cause more pollution. Rural households see much higher reliance on solid fuels available around them. Around 52% continued using firewood, cow dung, and crop residue alongside LPG. The serious health implications caused by these fuels have taken a back seat, as the concern around the cost of LPG cylinders looms large. For citizens earning less than INR 10,000 per month, it becomes difficult to choose LPG when subsidies do not account for rising prices. In rural areas, the cost of cylinders accounted for about 9.3% of monthly household expenditure.
While PMUY 2.0 has reached out to more citizens in the second phase, existing beneficiaries are struggling to stick with LPG. According to latest reports, 90 lakh citizens did not refill their cylinders, and 1 crore citizens only refilled their cylinders once in 2021. These numbers represent the chunk of the population who have reverted to using their traditional mediums for cooking. During the pandemic, the government provided up to three refills for the beneficiaries. However, soon enough, people stopped refilling their cylinders on their own. "I used the LPG connection till 2020. After that, the burden of health expenses increased in my family. I cannot afford the LPG refilling and have restarted using firewood for cooking. If given a choice, LPG is any day a better medium but prices have increased a lot," explained Rekha ji, one of the citizens from Chhattisgarh who had been using the cylinder for 2 years.
While there are households who continue to use solid fuels due to socio-cultural factors, access, and preferences, affordability has been the most salient issue for those who adopt and then discontinue gas stove use. Other factors like the inconvenience of refilling cylinders in remote areas and limited knowledge of using gas stoves also play a role in the continued utilisation of LPG cylinders and PMUY subsidies. At Haqdarshak, we have worked in rural and urban areas across the country to make PMUY more accessible to citizens. Our interventions have worked to improve consumer convenience and familiarity with clean fuel to improve adoption and promote behaviour change.
03/ Our Intervention
Community-based 'Haqdarshaks' shared information about PMUY and its benefits with citizens in their own and surrounding villages. We started helping citizens with application submissions and then worked with local agencies to ensure timely connections and doorstep delivery of cylinders. Programme team member Ravi Tiwari explains the importance of reducing the burden on beneficiaries, "Often, particularly in remote areas where there are fewer connections, people have to travel to collect their cylinders. This is an added cost and a deterrent. Having this taken care of ensures that more eligible households sign up for their connection."
'Haqdarshaks' further informed beneficiaries about the subsidy mechanism and ensured that their documentation was correct and up-to-date to facilitate smooth transfers. For most beneficiaries, PMUY introduced LPG as a fuel source for the first time. Additionally, our teams demonstrated time-saving techniques and procedures to help LPG cylinders last longer to reduce overall costs. They shared tips on what order to cook items in, to ensure that the beneficiaries use their stove efficiently. Cooking was a daily task that consumed a major part of their day and seemed never-ending to most. Using a clean fuel alternative like LPG was not only better for their health, but also helped them find time for other activities and leisure.
"Women in our village used to spend 3-4 hours a day cooking. They used to procure wood for their stoves on foot. After I helped them with the PM Ujjwala Yojana application, they now call to thank me. One of them told me that earlier she used to spend 2-3 hours gathering fuel and cooking. But now she needs only 30 minutes, this is possible because of the gas connection," 'Haqdarshak' Kirti, who works in Madhya Pradesh's Umariya village, proudly tells us.
Households connected to PMUY in 2018 with Haqdarshak's support, have continued using LPG to date. Another beneficiary from the state of Chattisgarh recalls, "I spent so much time daily — around 4-5 hours — in front of the stove, cooking for just 3 family members. It used to cause a lot of back pain and exhaustion. I had no idea about the LPG connection distribution in my area. The process also seemed complicated, but the Haqdarshak didi helped our applications get through within a short span of time. Having an LPG connection has benefited me a lot. I spend less time cooking, can step out, and also spend time with my children, helping them with their homework."
Further Reading