Building and Other Construction Workers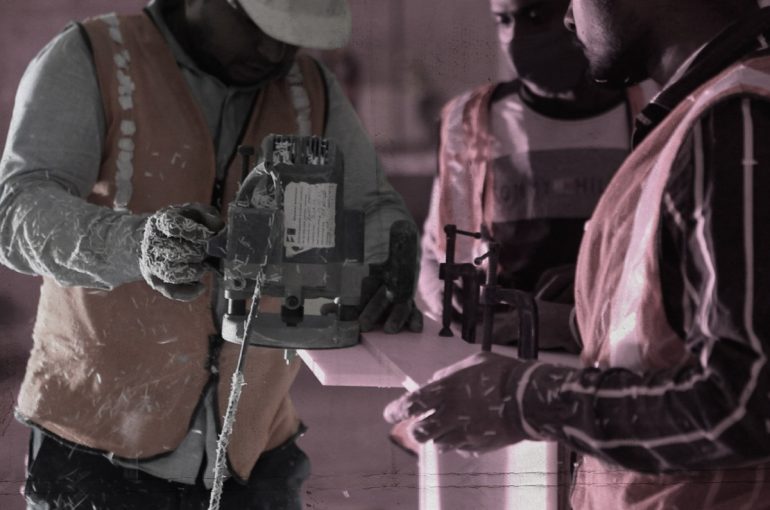 By Subhrali Kachari & Anveshi Gupta
01/ Introduction
Jayshree Nirmal is a 56-year old resident from Tukai Nagar, Pune, who has been engaged in construction labour for almost two decades. She is the sole earner for her family of four members, with a monthly income of INR 10,000. And even though she is in extreme need of assistance, Jayshree has never thought about her eligibility for government welfare schemes.
I don't know much about government application procedures, registration etc. I don't want to get stuck with complicated procedures. Someone keeps coming and asking for an Aadhaar Card but I don't carry it every day. If I lose it, who will get into the hassle of getting a new Aadhar Card made? My aim is to make money and go home. I don't know what the government is doing for us.

—Jayshree Nirmal
Haqdarshak helped Jayshree learn about the benefits of having a Building and Other Construction Workers (BOCW) labour card, got her all the documents she needed to apply, and then applied for all the relevant schemes. Jayshree has received her BOCW labour card, which opened up access to many DBT schemes provided by the welfare board — education, insurance, social security, and healthcare. She has already received a safety kit worth INR 5,000 post-registration.
In India, after agriculture, the Building and Construction industry is recognised as the next largest unorganised sector with high labour intensity and economic activity. This industry generates demand for both skilled and semi-skilled labour. The nature of work done by workers such as Jayshree, is temporary and casual — lacking basic amenities and welfare facilities. With the objective of providing adequate welfare amenities and safe working conditions, the Government of India enacted the Building and Other Construction Workers (Regulation of Employment and Conditions of Services) Act, 1996 and The Inter-State Migrant Workmen (Regulation of Employment and Conditions of Service) Act, 1979. While the latter delineates the rights of workers and the obligations of contractors, the BOCW Act further opens the channels of registration of building workers as beneficiaries to get welfare benefits. Both Acts provide for a welfare fund for workers — states create this fund by levying a cess of 1-2% on construction projects, applicable to any establishment employing 10 or more workers, and to projects costing more than INR 10 lakh. State welfare boards collect the cess and pay social security benefits to workers who register with them. Workers aged between the ages of 18 and 60, who have been engaged in building or construction work for at least 90 days in the preceding 12 months, are eligible to register. The benefits include pension, assistance in case of accidents, housing loan, education, group insurance premium, medical expenses, maternity benefits etc.
At Haqdarshak, we have worked with over 80,000 construction workers across India. We support them in registering for and availing benefits under the BOCW board. However, the registration in itself does not ensure access to entitlements — there are gaps at multiple levels. Until now, their efficacy both in terms of nature and implementation has been under question. It is disheartening to note that around 30% of the workforce is still left out of the registration1 process and till 2020, only five out of ten workers on the field were live-registered (renewed annually) and eligible for benefits2. An amount of INR 14,099 crore has been collected as cess, out of which only INR 2,382 crore has been spent on the welfare of construction workers.3
02/ Reasons for Low Uptake
The pandemic has exposed the extreme vulnerability of millions of 'migrant' workers who remain invisible to the state, industry, and the public at large. These workers make up a majority of the country's informal workforce — while they urgently need a safety net, there is very low uptake of schemes amongst them. Through our interactions with them, we observed that there were some key reasons that stopped the workers from availing the benefits associated with BOCW Cards.
Unfavourable Rules
"Even though my registration is done and I have received the card, I am yet to get any benefits." responded a worker in Indore. "There are new babus in the office and they are now questioning the 90-day work certificate that was provided by the old babus of the same office."
The registration of a BOCW beneficiary comes with certain requirements of documents and testaments. The registration requires proof of 90 days of total work done by the worker, in a year, at a construction site. As 'migrant' workers move from one place to another, they find it difficult to collect their certificates from their sources. The contractors don't feel obliged to provide the certificate nor are the workers in any position to assert their rights.
No Centralised Registration, No Common Database
While directives state that the registration of 'migrant' workers is important, there is no mandate providing directions on how to go about it. This poses multiple problems. For instance, the limited portability of welfare schemes. If a 'migrant' worker is registered under a BOCW board of any state, the worker is excluded from any kind of benefits under the card while working in another state. This is quite absurd. There is a lot of uncertainty in the life of an informal migrant worker regarding their future work location — the process of registering again in a different state only leads to attrition. The 38th report by the Standing Committee on Labour recommended that a dual system of registration, online and offline, be developed for construction workers across all states, and that labour identity cards be linked with Aadhaar cards to avoid duplication.
Post-registration Criteria for Schemes
The BOCW Card only stands as an identity card, whereas the application process for all schemes under the board must be initiated separately. In some states like Delhi, BOCW registration should be at least two years old to apply for certain schemes. Similarly, for some states like Rajasthan, this period varies from two months to a year.
Moreover, registrations need to be renewed yearly — this has been a major issue in accessing benefits. Studies show that during the lockdown, the majority of BOCW cardholders could not get DBT assistance as their registrations were not renewed. Some didn't get the benefit as their bank accounts were not updated4.
Lack of Data, Incorrect Communication
While the e-Shram portal, a database on informal workers, has been recently brought in, there has been a dearth of comprehensive data on 'migrant' workers to understand the trends. A reply by the Ministry of Labour and Employment (September 19, 2020), showed that 22.3 lakh construction workers had received cash assistance through DBTs, and a total of INR 5.58 billion was spent in Rajasthan. However, another reply later mentioned that only 7.6 lakh construction workers in Rajasthan have received direct cash assistance5.
Issues due to Migration
Case in point, bank insurance schemes. 'Migrant' workers usually have their bank accounts in their domicile states, and while working in the destination state, they are unable to apply for these schemes because in most cases, a visit to the bank in person becomes necessary.
Some studies have shown that being a permanent resident is more advantageous to getting access to schemes. In Gujarat, 'migrant' workers can visit the Primary Health Centre and Urban Health Centre but for tertiary treatment, they must become permanent residents — this would mean changing their address on the Aadhaar Card.
Poor Enforcement and Lack of Access to Grievance Redressal
ASHA workers are empowered to add new settlements (potentially for 'migrant' workers) to their existing list of service areas based on periodic surveys. However, since an ASHA worker is required to serve a pre-defined population, and adding 'migrant' settlements to her list would increase her workload, she may not want to take this on, which could lead to exclusion of the 'migrant' worker population in many cases.
Social audit reports have shown the prevalence of unfair means during the registration process. It is often heard from the beneficiaries that BOCW is too costly a registration in terms of the amount that contractors have to be paid for the documents. A social audit conducted by the Aajeevika Bureau in Udaipur District, Rajasthan, reveals that many of the cardholders are not engaged in construction activities. Haqdarshak, as a tech-based platform, helps to remove such gaps, as liasioning is done with the department directly.
Low wages are merely the first assault on the right of 'migrant' workers to protected living. It is a very common practice among employers and contractors to make arbitrary deductions from the wages of informal workers. Similarly, for the applications that have been made for sub-schemes listed under the BOCW board, many workers reported that they were not aware of any redressal mechanism that would hear their grievances and help secure justice.
03/ Mitigating the Challenges
Conscious Inclusion in the Database
The welfare of 'migrant' workers must be consciously targeted through different steps. The first step is to include them in the database. This might include assistance in native languages, and a helpdesk for workers across states. After analysing trends, states should come to a mutual agreement related to the delivery of welfare schemes, to ensure that no worker is deprived of entitlements. Simple yet effective systems such as 'migration certificates' could be introduced.
More Benefits, More Flexibility
To begin with, the states must look at the benefits provided under the board — these benefits currently include tools and maternity benefits. This is not enough.
BOCW cards could be linked with universal schemes, such as Ayushman Bharat and Jeevan Jyoti Bima Yojana. Housing schemes should be revisited with a data-driven lens and integrated into the card. Some stringent requirements, such as the minimum time period required to be registered under the board for access to schemes, needs to be relaxed as that demotivates registrations6.
The government has proposed the Pradhan Mantri Shram Yogi Maan-Dhan (PM-SYM) pension scheme for workers in the unorganised sector. It was announced in February 2019, and is a voluntary, contributory pension scheme. Another one, the Modified Model Welfare Scheme for Building and Construction Workers, provides life and disability cover, and also provides for health, education, housing, and pension.
Dynamic and Centralised Database
Policy experts, also mentioned in the Mission Mode document, suggest that a dynamic database of all the construction workers be created by the State which can be pooled and shared among the agencies. Online registrations should be promoted to gather data. Other technical tools such as grievance redressal portals implemented properly will also guide us in solving problems better.
With these learnings, we're hoping for a better future with better systems. Both the state and non-state agencies are in fact vigorously working on it using technology and modern solutions. Haqdarshak appreciates all stakeholders who have helped us in creating impact in this area. With their support, we will continue to provide all possible assistance to 'migrant' workers so that they can avail benefits that they are entitled to.
04/ Further Readings