Bringing Women Entrepreneurs in Nagaland to the Forefront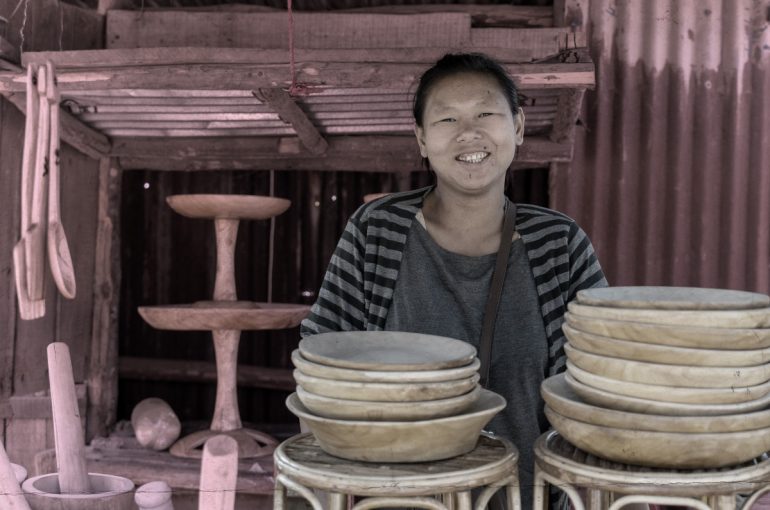 By Piyusha V and Megha Raha
01/ Naga Women — Owners, Operators, Leaders
Zuvekholu Tunyi owns a restaurant in Pfutsero, Nagaland, where she sells her homemade pickles. She started her business in 2018 in order to support herself, and at the time, had no formal training or experience in running a business. When our HD, Eriteu Mero approached her, Ms. Tunyi was unaware that MSME-related documents and schemes could help her enterprise flourish. Ms. Mero helped her register for FSSAI, a mandatory regulation for businesses of all sizes selling food items. Ms. Tunyi also discovered that by registering as an MSME, she would be able to obtain business loans that could help her scale. It was when her monthly revenue increased from INR 20,000 to INR 25,000 that she could see how these benefits could actually help her.
My wish to expand my restaurant and pickles across the state seems more possible now.

—Zuvekholu Tunyi, Restaurant Owner
Helping entrepreneurs in Nagaland get registered (and linked to MSME schemes) is a significant step towards improving women's welfare in the state. According to a report by UNDP and Exim bank, MSMEs from the Northeast are unique because most are owned, operated, or led by women. A large number of these enterprises engage in producing and selling pickles, street vending, making handicrafts, weaving handlooms, cultivating crops, or running other home-based businesses. The region's abundant natural resources (and rich cultural heritage) offer a fertile ground for them to thrive. In fact, by enabling them with access to credit through Udyam schemes, CSRs have enormous potential in creating sustainable livelihood opportunities for the women in the state.
02/ The Importance of Getting Registered
Registering as an MSME on the Udyam portal is not mandatory. However, it is encouraged because it can provide MSMEs with financial assistance and structure. In case of uncertain financial and market conditions, Udyam eases access to credit support, concessions, and rebates which can help micro and small businesses manage their floating expenses. This was especially important during the pandemic when many street vendors across the country sought the support of PM SVANidhi Yojana to avail collateral-free loans worth INR 10,000 at a subsidised interest rate of 7%.
Other advantages include patent registration subsidies, promotional subsidies, exemption from overdraft interest rates, and protection against delayed payments. There are also other welfare schemes which help with developing skills and upgrading technologies. Moreover, the contributions and challenges of registered businesses are accounted for, helping drive more relevant policy decisions.
03/ Under-representation
Despite the potential benefits of formalising micro and small businesses, very few have done so in Nagaland. According to official figures, the 8 states in the region house only 15% of the MSMEs in India. The distribution among the states is also uneven. According to the Census data from 2011-12, of around 11 lakh MSMEs in the Northeast, more than 50% are based in Assam, while Nagaland has only 39,000 (or 3.5%).
So far, the region has been unable to benefit from its geographical location. While India's exports to neighbouring countries have grown, the contribution of the North Eastern states remains stagnant at only 5% of the total exports to Bhutan, Myanmar, and Bangladesh. In reality, there is a significant volume of cross-border trading between the North Eastern states and neighbouring countries (which clearly remains unaccounted for).

04/ Naga Women as Contributors to the Economy
Traditionally, Naga women have been active economic contributors within their households. Their core role in economic activities gives them a higher social position in domestic decision-making. About 97.4% of women in Nagaland play an active part in taking household decisions. The state ranks first in this category, ahead of other performers like Kerala (92.1%) and Goa (93.8%). However, despite their involvement in business, many women business-owners in Nagaland tend to be unaware of MSME schemes and related documents. Nagaland's share of women-owned enterprises is only 0.17%. In comparison, West Bengal has the highest at around 23%. According to the dashboard for Udyam registrations, only 5005 of the 86,643 MSMEs in Nagaland have gotten registered.
The handloom sector has been among the largest employers of women in Nagaland. This is because, as is tradition, young girls are taught how to weave. According to the All India Handloom Census 2019-20, there are around 36,000 weavers in Nagaland, a majority of whom are women. Of these, only 5000 weavers are registered with the Office of the Development Commissioner. Skill development programmes can help weavers establish themselves as micro-enterprise units, and also learn how to market their products better.
Street vending is also common among women — many women come from rural areas and sell their produce in nearby towns (they invest the majority of their daily earnings to pay for daily transportation, and are unable to save or get out of this cycle). According to a survey conducted by Entrepreneurship Associates, there are around 30,000 women street vendors in Nagaland. But like the handloom sector, only a small fraction of women street vendors are registered MSMEs.
Ngupeu Mekru, a street vendor from Phek district in Nagaland, had been selling grocery items for 9 years when our HD, Trongthsalila H. Sangtam, aproached her. Despite selling food items for a decade, she was unaware that getting an FSSAI registration was mandatory for her business. She registered her business with Udyam (and subsequently received a business loan of INR 25,000 to scale up).
05/ Entrepreneurship — The Preferred Choice
Indian citizens have long preferred government jobs because they offer stability and security. This has now changed, and more people are opting to be entrepreneurs. In the last decade, the number of businesses owned by locals in Nagaland has increased — 70% used to be owned by non-Nagas, but now 60% are owned by Nagas. Both state and central governments have begun to look at entrepreneurship as a mode to generate employment, especially for women and the youth. According to the National Sample Survey data 2021-22, over INR 44 crore was allocated as margin money for Nagaland's MSMEs.
That said, carrying out operations in Nagaland comes with its own set of unique challenges.
Working in a hilly terrain like Nagaland means patchy Internet connectivity, bad road conditions, electricity issues, and exorbitant rates for travel, food, and stay. Our operations involving Udyam registrations and making PAN cards in Pfutsero and Mokochung often got delayed as the beneficiaries' Aadhaar and mobile numbers were not linked. Common Service Centres were either unavailable or far away.

—Yapangsangla LKR, Haqdarshak's Senior Coordinator for Nagaland
In addition to combating limited awareness about schemes, such challenges affect the delivery of services. Our ground teams have always managed to find ways to work around these challenges.
Note: We have managed to reach out to women entrepreneurs in the state primarily through women Self Help Groups and their networks. Interestingly, most of these women are the sole earning members in their families.
06/ Our Intervention
We have worked with small business owners from four districts — Dimapur, Kohima, Mokokchung, and Phek (Pfutsero). Together, with our partners, we have worked with around 1,000 entrepreneurs in these districts. Around 90% of these entrepreneurs have been women. We have assisted them with Udyam and FSSAI registrations, which will aid their businesses in the long run. In addition, we have helped them with applications resulting in loans worth INR 54 lakh!
We are interested in expanding our operations to other districts in Nagaland (and also other North Eastern states). If you have similar goals, let's talk — madhura.karnik@haqdarshak.com.